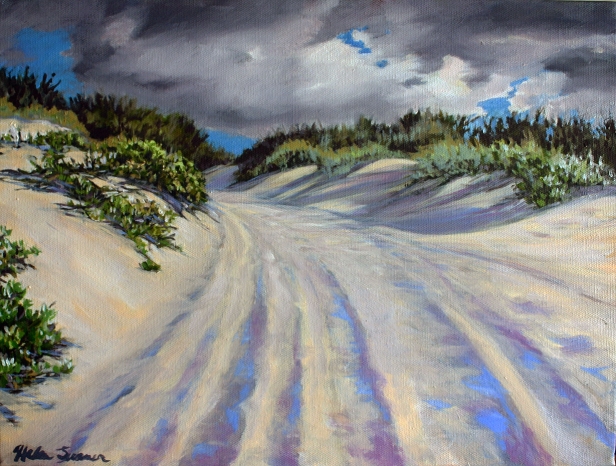 Artwork Details & Purchase »
Dune,
12x16 oil painting

The pure joy of creating a piece of art from a blank sheet of paper is my passion, and I hope you will enjoy these pastels as much as I did when painting them.
I am a seeker of the peaceful moment, an unspoiled sandy beach, a quiet walk in the woods. The closer look at a beautiful bloom inspires me to translate the folding shades of color, to stop time forever, on paper. The pastel medium is an immediate pleasure to an impulsive artist.
I am an ex-New Yorker who moved to Kauai in the early 80's, with my camera, flute and oil box, unsure of my future but ready for a change. Since then Iíve had a family, played many gigs, and discovered pastels! I belong to several Pastel societies and art guilds, exhibit in juried shows and paint "en plein air" as much as I can. The pursuit of excellence in pastel is a continuing journey that I would like to share with you.
Latest Paintings

November 20, 2015
We Give Thanks!!!
Here on Kauai, we are giving thanks for not being hit by any of the ten hurricanes this season! They buzzed by us on either side by we were spared! We also love our island life, and the beauty of the tropics and that is why I paint this landscape, as often as I can!
I have been busy teaching both private and group lessons, meeting new artist friends and growing in different directions.I have been doing a still life group at my home, and hosting a life drawing class at our Kauai Society of Artists at our exhibition space in Lihue, lots of fun and quite a challenge to get outside your comfortable place and paint from life with objects or figures!
Print sales are up as the season of giving is upon us, so don't hesitate to contact me for a quote or recommendations!
Blurb, the company I use to make my art books, are offering free shipping within the continental U.S.,they make a beautiful remembrance of Kauai..use the code "FREESHIP2015
Have a wonderful Holiday with family and friends, and thank you for being part of my art journey!
Sincerely,
Helen
More News from the Artist Ľ
Documentary Video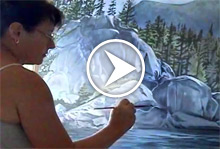 7th Annual Holiday Fine Art Festival

» Nov. 28, 2015 - Nov. 28, 2015
| | |
| --- | --- |
| » | Hanapepe United Church of Christ, Hanapepe, Kuhio Hwy |
Event Details »
»
www.womenartistsofkauai.blogspot.com
---
Annual Small Works Holiday Show

» Nov. 20, 2015 - Jan. 8, 2016
| | |
| --- | --- |
| » | Kukui Grove Shopping Center, Lihue, Kauai |
Event Details »
»
kauaisocietyofartists.org
---