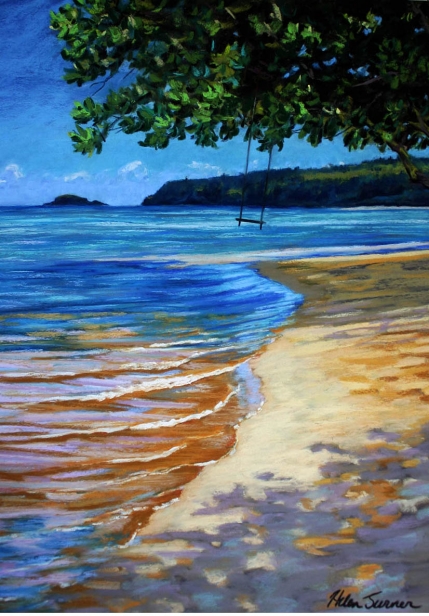 Artwork Details & Purchase »
Swing in the Wind,
12x16 pastel painting

The pure joy of creating a piece of art from a blank sheet of paper is my passion, and I hope you will enjoy these pastels as much as I did when painting them.
I am a seeker of the peaceful moment, an unspoiled sandy beach, a quiet walk in the woods. The closer look at a beautiful bloom inspires me to translate the folding shades of color, to stop time forever, on paper. The pastel medium is an immediate pleasure to an impulsive artist.
I am an ex-New Yorker who moved to Kauai in the early 80's, with my camera, flute and oil box, unsure of my future but ready for a change. Since then Iíve had a family, played many gigs, and discovered pastels! I belong to several Pastel societies and art guilds, exhibit in juried shows and paint "en plein air" as much as I can. The pursuit of excellence in pastel is a continuing journey that I would like to share with you.
Latest Paintings

December 06, 2016
Heading into 2017!!
What a year!! Lots of traveling and painting, both in the field and the studio! I am truly blessed with friends and family and my clients , who keep me from being buried alive in art!
I am hoping to stay on Kauai and paint because this is my island muse, but I am also open to new adventures. Recently, I started up my newsletter again, and I promise to make it a habit, sending out a sampling of studio works that are fresh off the easel.
Here's to a year of art and beauty, love and kindness!
Sincerely,
Helen
More News from the Artist Ľ
Documentary Video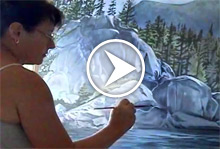 Small Works Show

» Nov. 18, 2016 - Jan. 6, 2017
| | |
| --- | --- |
| » | Kukui Grove Shopping Center, Lihue, Kauai |
Event Details »
»
kauaisocietyofartists.org
---