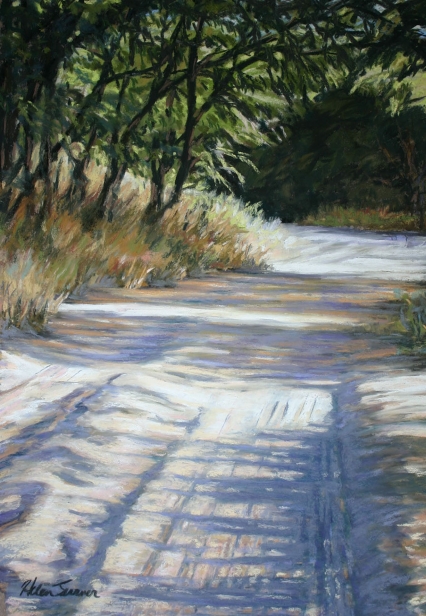 Artwork Details & Purchase »
Sandy Path,
12x18 pastel painting

The pure joy of creating a piece of art from a blank sheet of paper is my passion, and I hope you will enjoy these pastels as much as I did when painting them.
I am a seeker of the peaceful moment, an unspoiled sandy beach, a quiet walk in the woods. The closer look at a beautiful bloom inspires me to translate the folding shades of color, to stop time forever, on paper. The pastel medium is an immediate pleasure to an impulsive artist.
I am an ex-New Yorker who moved to Kauai in the early 80's, with my camera, flute and oil box, unsure of my future but ready for a change. Since then Iíve had a family, played many gigs, and discovered pastels! I belong to several Pastel societies and art guilds, exhibit in juried shows and paint "en plein air" as much as I can. The pursuit of excellence in pastel is a continuing journey that I would like to share with you.
Latest Paintings

September 11, 2014
Empty Nester Gets Big Egg
I find myself busier then ever these days, with the absence of my sons, I was sure to be sad and bored, instead I find myself with a grand project underway! It has been awhile since I have worked on a canvas this big, but my client, bless her heart, had a size in mind to fit her living space, and I couldn't say no to a lovely beach in oil!! I will post the final outcome!! I also have lots of charity based functions this fall with the Women Artists of Kauai and returning plein air students. I declined to enter PAH this year, as my work has grown larger then will fit in a mailing box for competition, so you can see my competition pastel locally this year in Art Kauai.
I am really liking big oil canvas's, so anyone who wants a spectacular Kauai scene in their home, drop me a line!!!
Sincerely, with Aloha,
Helen
More News from the Artist Ľ
Documentary Video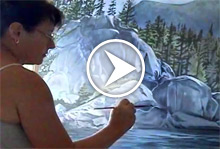 Art Kauai 2014

» Sep. 19, 2014 - Oct. 31, 2014
| | |
| --- | --- |
| » | Kukui Grove Shopping Center |
Event Details »
---