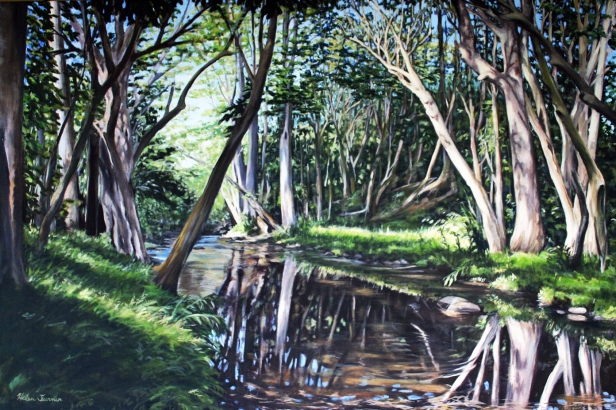 Artwork Details & Purchase »
Kauaian Waters,
24x36 oil painting

The pure joy of creating a piece of art from a blank sheet of paper is my passion, and I hope you will enjoy these pastels as much as I did when painting them.
I am a seeker of the peaceful moment, an unspoiled sandy beach, a quiet walk in the woods. The closer look at a beautiful bloom inspires me to translate the folding shades of color, to stop time forever, on paper. The pastel medium is an immediate pleasure to an impulsive artist.
I am an ex-New Yorker who moved to Kauai in the early 80's, with my camera, flute and oil box, unsure of my future but ready for a change. Since then Iíve had a family, played many gigs, and discovered pastels! I belong to several Pastel societies and art guilds, exhibit in juried shows and paint "en plein air" as much as I can. The pursuit of excellence in pastel is a continuing journey that I would like to share with you.
Latest Paintings

May 20, 2015
Getting Ready for Summer!
I can't believe how quickly this year has gone by, almost summer and I'm gearing up for a trip to the Mainland in a few weeks. This is the heart of plein air season, both my pastels and oils are getting a good workout! I've been teaching a lot of new students,some returnees, and some who want lessons in both mediums, oil and pastel!! It keeps me busy. I've taken the year off from competition to work on my oil paintings, as they take longer to complete, and I need to relax and let my creativity rejuvenate!!
I'll be back on Kauai July 15 for lessons and studio visits if you are coming to my island this summer!
Take care and get out there in the fresh air!!
Sincerely,
Helen
More News from the Artist Ľ
Documentary Video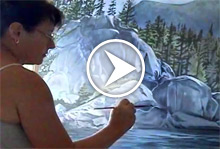 Second Annual Print Sale

» Jun. 22, 2015 - Jul. 16, 2015
| | |
| --- | --- |
| » | Kauai Society of the Arts Exhibition Gallery |
Event Details »
»
www.kauaisocietyofartists.org
---