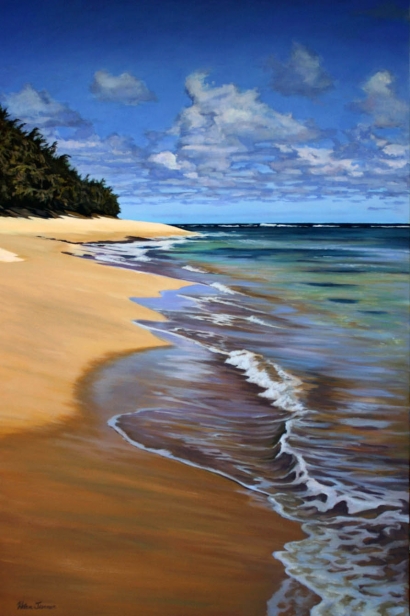 Artwork Details & Purchase »
One More Day,
24x36 oil painting

The pure joy of creating a piece of art from a blank sheet of paper is my passion, and I hope you will enjoy these pastels as much as I did when painting them.
I am a seeker of the peaceful moment, an unspoiled sandy beach, a quiet walk in the woods. The closer look at a beautiful bloom inspires me to translate the folding shades of color, to stop time forever, on paper. The pastel medium is an immediate pleasure to an impulsive artist.
I am an ex-New Yorker who moved to Kauai in the early 80's, with my camera, flute and oil box, unsure of my future but ready for a change. Since then Iíve had a family, played many gigs, and discovered pastels! I belong to several Pastel societies and art guilds, exhibit in juried shows and paint "en plein air" as much as I can. The pursuit of excellence in pastel is a continuing journey that I would like to share with you.
Latest Paintings

April 03, 2015
He is Risen!!!
Easter weekend, and all is right with the world! I wanted to post my latest oil painting of the Mahaulepu Coast for your viewing pleasure, as it is a happy, sunny painting, full of promise, walking on a glorious sandy beach in the sunshine.
I have been pushing myself on doing large scale oils and have two more on their way to completion. I will be teaching a Life Drawing class locally on Kauai for a six week session, starting April 13, and am busy teaching plein air pastel lessons when the weather permits!! I've had the pleasure of meeting some of my mainland collectors in person this winter season and hope to entertain more in the coming months. I will be traveling mid June to mid July, but will also be painting while I'm away. I just can't help myself, there is always something interesting to capture!! May the Lord bless and keep you all healthy and happy!!
Sincerely,
Helen
More News from the Artist Ľ
Documentary Video