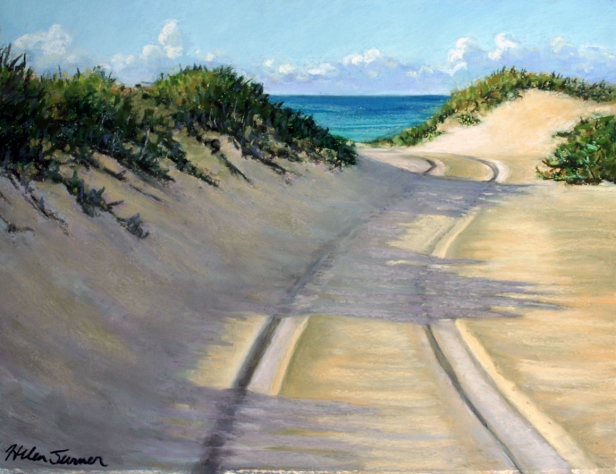 Artwork Details & Purchase »
Dunes and Shadows,
9x12 pastel painting

The pure joy of creating a piece of art from a blank sheet of paper is my passion, and I hope you will enjoy these pastels as much as I did when painting them.
I am a seeker of the peaceful moment, an unspoiled sandy beach, a quiet walk in the woods. The closer look at a beautiful bloom inspires me to translate the folding shades of color, to stop time forever, on paper. The pastel medium is an immediate pleasure to an impulsive artist.
I am an ex-New Yorker who moved to Kauai in the early 80's, with my camera, flute and oil box, unsure of my future but ready for a change. Since then Iíve had a family, played many gigs, and discovered pastels! I belong to several Pastel societies and art guilds, exhibit in juried shows and paint "en plein air" as much as I can. The pursuit of excellence in pastel is a continuing journey that I would like to share with you.
Latest Paintings

August 03, 2016
Travels and Art
Writing from the Lee Star on the west coast!! Missing my tropical island but not the humidity and hurricanes this summer. I am having fun reuniting with family and friends, and getting some different land and seascapes to enjoy and occasionally paint. I will be back on island in October for Art Kauai, our island juried show, and to teach plein air in pastel.I will have lots of reference material from my Channel Islands trips, and from my Oregon coast plein air trip, so don't be surprised to see some non Kauaian paintings come fall!!
Have a wonderful summer! Write me anytime!
Sincerely,
Helen
More News from the Artist Ľ
Documentary Video