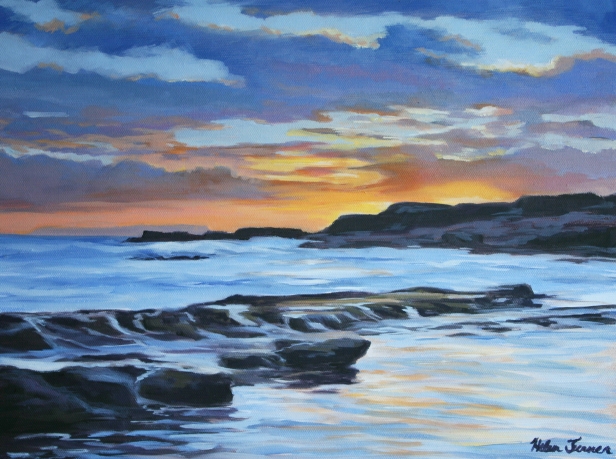 Artwork Details & Purchase »
Sunset at Salt Pond,
12x16 oil painting

The pure joy of creating a piece of art from a blank sheet of paper is my passion, and I hope you will enjoy these pastels as much as I did when painting them.
I am a seeker of the peaceful moment, an unspoiled sandy beach, a quiet walk in the woods. The closer look at a beautiful bloom inspires me to translate the folding shades of color, to stop time forever, on paper. The pastel medium is an immediate pleasure to an impulsive artist.
I am an ex-New Yorker who moved to Kauai in the early 80's, with my camera, flute and oil box, unsure of my future but ready for a change. Since then Iíve had a family, played many gigs, and discovered pastels! I belong to several Pastel societies and art guilds, exhibit in juried shows and paint "en plein air" as much as I can. The pursuit of excellence in pastel is a continuing journey that I would like to share with you.
Latest Paintings

July 12, 2014
The Heat is On!
With so many changes happening around me, people coming and going in and out of my life, it is clear that my painting must go through a period of growth that reflects these developments. My best friend and painting partner is off to school, leaving me with our joint book project to complete, and also the impetus to try some new pastel directions! I had a dream with colors, and usually I don't take heed of that sort of subconscious streaming, but it stayed with me. I am currently awaiting a new shipment of paper to begin my experiments!!! Don't worry, I am an impressionist by nature, so whatever I paint, it will be rooted in natures' beauty.
Meanwhile, I am also waiting to see if I made it into the annual Pastels USA show!! I'll keep you posted! I just finished a new book, which will be in my Blurb bookstore, and I am seriously considering working with printing my images on clothing! I have a new online family too, Tiffanys' Art Agency is representing my pastels in her online web gallery, and she is also producing a book on Hawaii's creative life, which I will be a part of. So you see, I've been busy, artists can no longer stay inside and paint, we have to keep exploring the possibilities!!
Sincerely,
Helen
More News from the Artist Ľ
Documentary Video