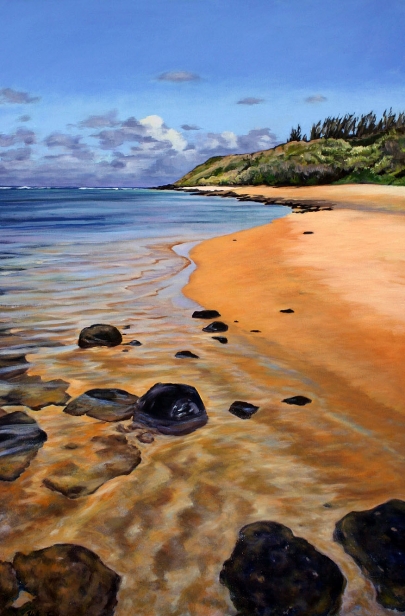 Artwork Details & Purchase »
Larsen's Beach Noon,
24x36 oil painting

The pure joy of creating a piece of art from a blank sheet of paper is my passion, and I hope you will enjoy these pastels as much as I did when painting them.
I am a seeker of the peaceful moment, an unspoiled sandy beach, a quiet walk in the woods. The closer look at a beautiful bloom inspires me to translate the folding shades of color, to stop time forever, on paper. The pastel medium is an immediate pleasure to an impulsive artist.
I am an ex-New Yorker who moved to Kauai in the early 80's, with my camera, flute and oil box, unsure of my future but ready for a change. Since then Iíve had a family, played many gigs, and discovered pastels! I belong to several Pastel societies and art guilds, exhibit in juried shows and paint "en plein air" as much as I can. The pursuit of excellence in pastel is a continuing journey that I would like to share with you.
Latest Paintings

August 20, 2015
Fall????
Just because I haven't posted, doesn't mean I haven't been painting!! Actually I've been very prolific this summer. Since I've been home from the mainland,I've had canvas and paper on the easel everyday...well nearly.
My trip was a blast, I was able to plein air paint on both coasts and took home some interesting photographs to work on over the winter.I melted a computer and am now catching up with posting , so look every now and then for new works!!
Sincerely,
Helen
p.s. The hard cover book "Aloha Expressionism" is finally here! I will post a link in the future!
More News from the Artist Ľ
Documentary Video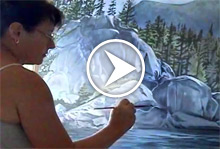 Hawaii Food and Wine Festival/Art Exhibit

» Sep. 12, 2015 - Sep. 12, 2015
| | |
| --- | --- |
| » | Hawaii Convention Center,Oahu |
Event Details »
---
Art Kauai 2015

» Sep. 18, 2015 - Oct. 30, 2015
| | |
| --- | --- |
| » | Exhibition Space of Kauai Society of the Arts, Kukui Grove, Lihue, Kauai |
Event Details »
»
kauaisocietyofartists.org
---
Pastel Artists of Hawaii 12th Annual Juried Show

» Nov. 2, 2015 - Nov. 20, 2015
| | |
| --- | --- |
| » | The Garden Gallery, Place, Oahu |
Event Details »
»
pastelartistsofhawaii.org
---