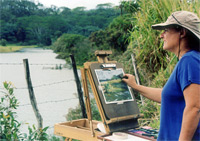 Helen painting en plein air
Plein Air painting lessons -
paint on location around Kauai
Come experience the creative blast of painting in pastel "en plein aire" with me in a one-on-one lesson in capturing nature! I provide an easel, top quality pastel paper, and pastels - everything an outdoor artist needs. All you need to bring is a hat, water and a camera! I have beautiful locations to paint all around me on Kauai so when you plan your next trip to the islands,
contact me
to schedule a lesson.
Students will take home at least one 9x12 finished pastel, and a recommendation list of materials for continuing in pastel once they are home. My classes are open to any level of artist, from beginners to experienced artists who don't want to travel with supplies.
Classes are $75 per person for a three hour session. I can provide materials for two people, so if your spouse or friend wants to try pastels, bring them along!
Contact me to schedule a lesson or to find out more!
Latest Plein Air paintings
Pastel Artwork by Helen Turner

August in Haena
Plein air painting, 9x12


Koloa Days class
Plein air painting, 9x12


Princeville Clubhouse
Plein air painting, 9x12
View more plein air paintings »